CDA pen plans for slim fit Edinburgh flats
August 22 2018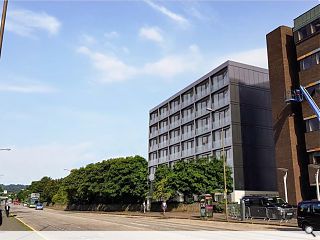 Comprehensive Design Architects (CDA), acting on behalf of DV4 Properties, have drawn up designs for 19 new build flats at Queensferry Road, Edinburgh.
Orchard Brae will sit on an existing gap-site adjacent to Orchard Brae House, a 1970s office block, although the area is predominantly residential.
Finished in PPC aluminium cladding above a precast concrete panel base the properties have been purposefully conceived as 'open and lightweight' in order to contrast with the heavy brick facades of its neighbour.
In a statement the architects wrote: "This approach sets the building apart from it's adjacent neighbours whilst allowing the views to the North and South to be maximised.

"The formal ordering of the façade is softened through the use of full-length balcony spaces which will be inhabited and bring vibrancy to the design. The gable ends of the proposals have no fenestration proposed. This will avoid any issues with privacy or overlooking from the apartments into the adjacent buildings."

Scaled to 'mediate between the heights' of these buildings the eight storey block is designed to have the slimmest possible profile in order to minimise the loss of daylight to neighbours. Entrances will be positioned at both lower and upper ground level with a mic of surface and undercroft parking to the rear.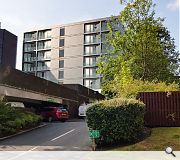 Full-length balconies have been specified to 'soften' the facade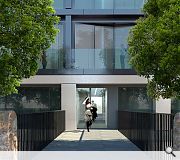 Precast concrete cladding is employed to express entrance levels
Back to August 2018