Enhanced compulsory purchase powers championed to break dereliction deadlock
|
Send to friend
August 16 2018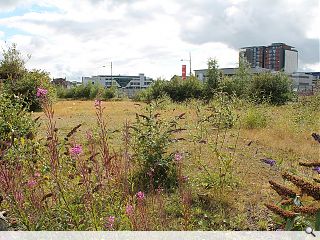 The Land Commission is calling on the Scottish Government to hand local authorities greater control of regeneration policy by championing a new Compulsory Sales Order (CSO) as a mechanism for forcing abandoned buildings and derelict land back into productive use.
Intended as a more flexible version of compulsory purchase orders, which require a specific plan for re-use to be put in place, the new instrument would be available to public authorities seeking to tackle problematic sites via a transfer of ownership.
The call to action is contained in a new report which cites enhanced powers for planning authorities as the most straightforward method for tackling the problem, with an estimated 11,600 hectares of land failing to reach its potential – equivalent to an area twice the size of Dundee.
This is compounded by a further 37,000 houses scattered throughout the country which have been classed as long-term empty homes by Shelter Scotland.
Professor David Adams commented: "Such sites often act as magnets for crime and anti-social behaviour. This damages quality of life for existing residents and can act as a deterrent for inward investment, making it more difficult to bring about long-term regeneration and renewal.
"CSOs could be part of a tool kit to bring unused land – especially small parcels of land that have lain unused and unloved, in our city and town centres - back in to productive use.
"We envisage it being used as a power of last resort; councils and land owners should be working together to try and find solutions first."
Fresh solutions are being investigated as a means to break a logjam which has seen precious little progress made, with derelict and vacant land totals remaining largely unchanged since the late 1990's.
Back to August 2018