Urgent consent sought for Mackintosh stabilisation
August 10 2018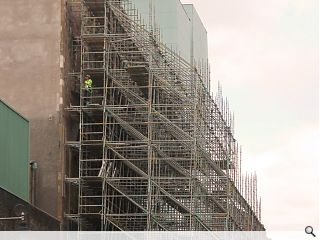 Glasgow School of Art has applied for retrospective listed building consent for the partial downtaking and consolidation of the A-listed Mackintosh Building.
Urgent works to stabilize the surviving structure are being undertaken by Reigart in a bid to salvage material and prevent further collapse, including the erection of shoring scaffolding to the Dalhousie Street elevation.
In a statement the school wrote: "The intention of the School is to restore the Mackintosh. This will be no easy task with so much of the original fabric destroyed in the fire and with such serious damage to the remaining stone, steel, brick and concrete structure.
"The Category A Listed Building is an outstanding architectural design of international significance and we have been in close liaison with Historic Environment Scotland throughout both the 2014-8 restoration project and subsequently the action of the fire."
Current stabilisation work is expected to complete on 21 August.
Back to August 2018