Mackintosh Building demolition in full swing
July 31 2018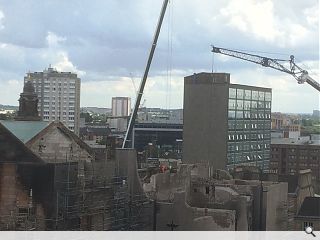 Reigart are proceeding with a painstaking stabilisation work to the Mackintosh Building by taking down dangerous brickwork from the east gable, south and north facades.
Steel restraint strapping has already been installed to the eastern gable to allow the removal of dangerous scaffolding which will be replaced by new shoring scaffolding, to designs developed by David Narro Associates.
Work is being simultaneously progressed to the western end of the building where scaffolding has also been cut away to enable removal of roof steelwork and RHS beams.

Professor Tom Inns said: "Our focus continues to be on the east gable and south façade which are the areas of the building impacting most on our neighbours, and we hope to begin installing the shoring scaffolding later this week.
"We are grateful to Glasgow City Council for stepping in to commission necessary safety works on the ABC O2 building. This will enable us to move the main crane to the corner of Scott Street and start work on the west end of the Mackintosh Building above Sauchiehalll Street."
The majority of material is being dropped into the interior of the building in a 'controlled manner' save for a few selected stones and other items which will be recorded and stored off-site.
Back to July 2018