Drum faces the music following Leith Walk consultation
May 14 2018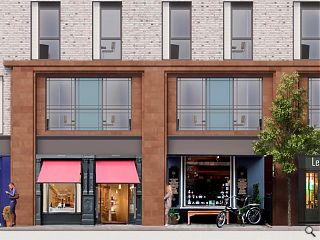 Drum Property Group has revised its proposals to replace a run of sandstone shop units on Edinburgh's Leith Walk with a mixed-use development comprising housing, student accommodation and replacement retail following consultation feedback.
The developer has now pledged to include independent retail, restaurant and entertainment units along Leith Walk, with an all-new live music, art and exhibition venueat its heart, moves which Drum believes will maintain the area's 'distinctive feel and character'.
Modelled on the existing Leith Walk frontage the latest plans seek to maintain a live music presence on the parade following the closure of Leith Depot at the end of its lease in 2019.
Opening up a new through-route between Pilrig Park and Leith Walk the project seeks to establish a 'strong linear building line' with active frontages and communal green spaces with development arranged around a series of courtyards.
Fife Hyland, communications director at Drum said: "The existing buildings at Stead's Place are no longer an economically viable investment for us and we propose to invest £50 million in a new mixed-use development when all of the existing tenants move out and the site is completely vacant in 2019.
"We are now having positive discussions with many of the current traders with a view to encouraging them to return to the new development on completion – offering favourable rents, in line with current levels, and significantly lower than market value.
"We want this development to be a blueprint for introducing modern, contemporary design on to the high street without sacrificing the individuality and vibrancy that makes Leith unique. We feel our revised proposals, incorporating sympathetic design with an eclectic mix of tenants and a stand-out live music venue, will continue the rich tradition of diversity, independence and interest which makes Leith Walk such an exciting destination in which to live, work and visit."
A detailed planning application for the Leith Walk frontage and the industrial estate behind is expected to be filed shortly.
Back to May 2018