£15m Tullibody school's campus cleared for construction
August 1 2018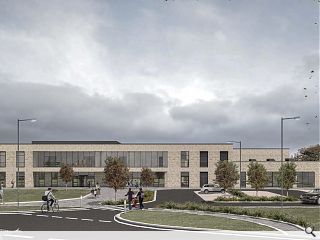 Clackmannanshire Council is to progress a £15m schools' campus in partnership with Hub East central Scotland and Robertson Construction after the build reached financial close.
Overseen by Keppie Design Tullibody South Campus is to be built on the site of the present Abercromby Primary and will include a variety of internal and external learning spaces with sports, learning and play areas all clearly defined.
Finished in rustic buff brick, with limited use of white render to rear courtyard elevations, the school will make use of a range of outside terraces and covered play areas to provide flexibility of use.
Explaining the courtyard interventions Keppie wrote: "The external courtyard has been strategically positioned in the centre of the plan to allow light to reach the deepest parts of the building. The space will be used as a different external learning space for both schools.

"Located directly off of the dining hall, the space can be used as a spill out space for school lunches, as well as providing a nice outlook for the surrounding spaces."
When complete in August 2019 Tullibody South Campus will include two separate primary schools as well as a nursery – together with twin gym halls, meeting spaces, an 'immersive room' and library.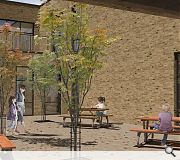 Courtyard spaces offer space for mixed play and learning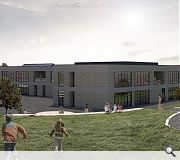 Soldier couses enhance the horizontal impact of the campus
Back to August 2018