Unsafe Mackintosh masonry dismantled
|
Send to friend
July 11 2018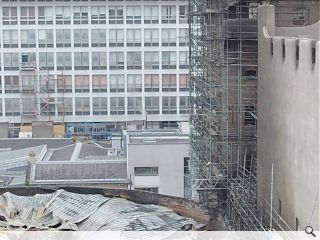 Structural engineer David Narro Associates and contractor Reigart have begun the process of carefully dismantling unsafe sections of masonry from the fire-ravaged Mackintosh building as part of efforts to stabilise the site and allow the return of neighbouring residents and businesses.
Working in close collaboration with Glasgow City Council and Historic Environment Scotland the team have chosen a painstaking process of manual dismantling using a combination of mobile platforms and cranes in a process expected to take a number of weeks to complete.
In this manner the unsafe walls can be brought down block by block with hoists used to manoeuvre heavy, high-level stonework safely to the ground from where individual pieces will be sorted prior to transport to off-site storage.
Dominic Echlin of David Narro Associates said: "The primary aim of the initial works is to make the building safe and structurally stable. It is important to understand that our agreed approach is the safest way to dismantle the dangerous elements of the building and, importantly, ensure there is no damage to nearby properties or risk to those working on site.
"The contractor is starting today to reduce the height of the high-level walls on the south side of the building, carefully taking down damaged and unstable masonry. With the machinery brought to site the contractor can work on several 'fronts', so after a start today in the middle of the south façade, we will quickly move on to reducing height to the top parts of the south-east corner and east façade. Work will then follow on the west end and then parts of north façade. This sequence has been determined so we keep the building as stable as possible and the dismantling controlled throughout the process."
The primary crane will be positioned on the corner of Sauchiehall Street and Dalhousie Street with a second likely to sprout at the junction with Scott Street. Three further cranes will also be employed to facilitate the work.
Back to July 2018