Partial demolition of Glasgow School of Art ordered within days
|
Send to friend
June 28 2018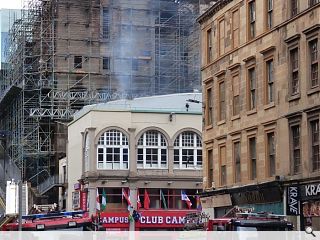 Glasgow City Council has been forced to progress emergency demolition works at Glasgow School of Art a
fortnight after a devastating fire
, after structural surveys highlighted substantial movement in remaining masonry.
The worst affected sections, principally the south façade, will now be taken down within a matter of days amidst fears of a sudden collapse, with further signs of movement also detected on the east and west gables.
The city's head of building control Raymond Barlow said: "This building has undergone substantial stress in recent days. With each passing day a sudden collapse becomes more likely. It has become urgent that we take down the south façade. As the process begins it will be likely that the other walls will also need to be reduced.
"We do not know what effect this will have on the rest of the building so I have to be clear this site remains dangerous and is becoming more dangerous. It is particularly important that people observe the cordon which remains in place."
A methodology for the delicate task of dismantling the south façade will be developed over the next two days but contractors may be asked to begin taking down the east gable first in order to allow residents of Dalhousie Street to return home.
Back to June 2018