137 Pollokshaws homes given all clear
June 21 2018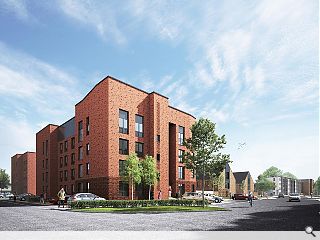 Located between Shawholm Crescent and Shawbridge Street the Barton Willmore design will move on-site this summer.

Jon Parry, associate architect at Barton Willmore, said: "The new housing development at Pollokshaws has been designed by Barton Willmore's integrated team bringing together architects, town planners and landscape architects. We have placed a strong emphasis on quality and connectivity using the local knowledge of our new Glasgow office.
"It's exciting to be a part of a once-in-a-lifetime opportunity to strengthen and reinvigorate this important area of Glasgow, once home to a range of low and high-rise blocks. Our plans include vibrant public realm spaces and a well-considered streetscape that connects extremely well into the surrounding context, with easy access to the open countryside of Pollok Country Park."
Pollokshaws is one of eight designated Transformational Regeneration Areas (TRA) in the city in a partnership between Glasgow Housing Association (GHA), Glasgow City Council and the Scottish Government.
Back to June 2018