Fears grow for Glasgow School of Art as architect warns of 'black hole' rebuild
|
Send to friend
June 22 2018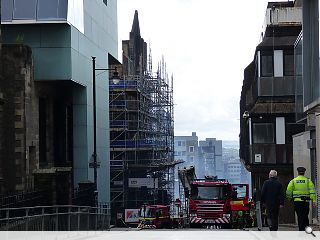 Fears are growing for the structural integrity of the Glasgow School of Art may collapse 'without warning' after a devastating fire shattered masonry and weakened structural supports, particularly at the east and west gables.

The warnings come as an architect warned that any moves to rebuild the school would be the equivalent of 'throwing money into a black hole', casting doubt on the £100m figure bandied around in the media for any prospective replica.
Appearing on
BBC2's Timeline professor Alan Dunlop
said: "I don't necessarily think that rebuilding it as it was, and I don't think you could do it anyway, would be the best thing to recognise and celebrate the man (Mackintosh).
"Building regulations have changed along with safety, security and disabled access requirements. If you're talking about a serious replication of the Mackintosh building you would be throwing money into a black hole."
Many fixtures and fittings salvaged from the fire four years ago remain in storage, including a replica of the iconic library which has already been assembled and rebuilt at great expense.
Back to June 2018