Waverley Mall responds to St James Centre challenge
June 20 2018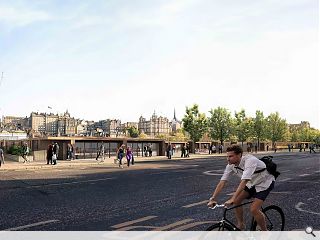 Waverley Mall
manager Moorgarth have come forward with proposals to rejuvenate the ageing shopping mall to maximise views to the OId Town while emphasising its role as a point of arrival and departure.
Sutherland Hussey Harris's solution aims to resolve layout issues with the current BDP design including 'convoluted pathways', 'little amenity' and an absence of 'effective thoroughfares' – compounded by the lack of any permanent retail.
The chosen solution creates a
U-form rooftop ornamental garden
echoing a Victorian market which once occupied the site, which will sit atop a new clearly defined urban space lined by shops, cultural facilities and amenities.
This will allow the existing pavement width to be doubled alongside creation of a flexible events and market courtyard, capable of being appropriated for use by multiple festival offerings.

In an urban design statement the architects wrote: "The proposal establishes within the site a new and clearly defined urban space which is contained on the south, west and eastern edges whilst opening up to a new broader and more gracious Princes Street pavement promenade.
"This simple U form plan establishes a well defined and coherent public place sheltered from the prevailing wind, whilst still allowing uninterrupted views from Princes Street across to the old town, the Castle and South Bridge."
White grey granite from the existing building will be re-used for the new proposal with a new light-weight steel pavilion clad in pre-patinated bronze sheets rising from street level. This would be topped by an array of square panels formed from a mosaic of coloured glazed ceramic tiles and joined by a grid of white marble chippings.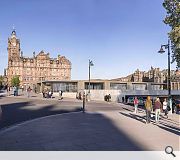 The Princes Street frontage will be enhanced with new units and a formalised events space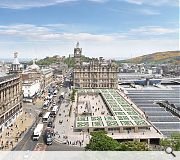 The so-called 'fifth elevation' of the roof has been modelled after the parterre style of formal garden
Back to June 2018