Tenants welcome Highland 'FitHome' development
|
Send to friend
June 20 2018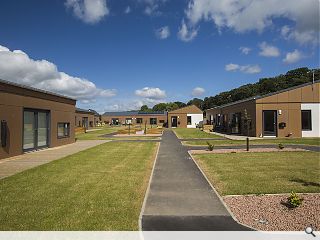 Fourteen tenants have been handed the keys to a 'FitHome' concept village in Dalmore, Alness, which seeks to marry basic housing provision with healthcare and welfare.
The pilot project has been delivered by Carbon Dynamic on behalf of Albyn Housing Association and NHS Highland to enable people to extend their independence within the community for longer by taking advantage of new technological solutions to detect the onset of ill-health.
The village will serve as a proof of concept for this new approach, which is already in planning to be rolled out in Nairn and Inverness.
Lucy Fraser, head of innovation at Albyn Housing Society, said: "At the heart of the FitHome concept is a shared vision which states that everyone should have the choice to live safe and well in their homes and communities for as long as they want.

"What's more, it demonstrates a collaborative approach to wellness by combining the principles of health, care and housing with modular home design and 'Internet of Things' technology – something we must embrace and take advantage of as we delve deeper into the digital age."
"Just as important, the FitHome and its social business model is replicable throughout Scotland, the UK and globally, delivering a real solution that puts the customer first as well as directly addressing inequality and growing healthcare challenges, and creating training and employability opportunities."

The FitHome concept originated in 2008 when a tenant was found dead in their home, having lain unnoticed for over a year, galvanising Albyn into putting new preventative measures in place.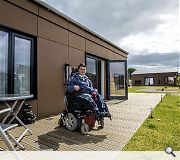 19 year old Dylan Bogue, who lives with muscular dystrophy, is one of the first new tenants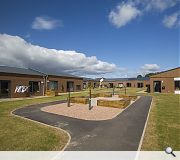 Tenants will provide feedback on design, layouts and technology to inform future developments
Back to June 2018