Cumbernauld tries joined up thinking
|
Send to friend
July 25 2008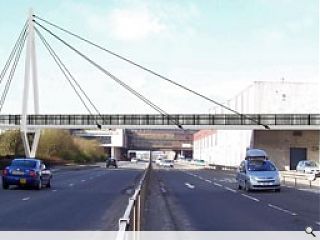 Proposals for a new £1 million footbridge across Central Way aims to reunite both sides of Cumbernauld town centre, separated by the 2004 closure of the Tummel Way Bridge.
An application has been lodged with North Lanarkshire Council from Campsies Centre Cumbernauld Ltd (A council run subsidiary). The high level link aims to curtail the need for pedestrians to use a neighbouring underpass.
Famed the world over for its planning failures, replacing like with like may be seen as sidestepping the potential for forward thinking. With pedestrian activity isolated amongst a labyrinthine network of elevated passageways and enclosed within the newly built Antonine Centre, no attempt is being made to connect Cumbernauld at street level.
Back to July 2008