RMJM unveil Olympic Media Facility
July 25 2008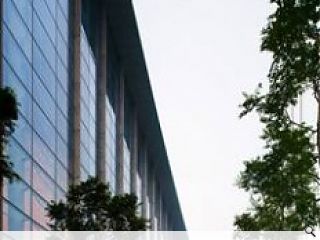 Scottish Architects Unveil Largest Ever Olympic Media Facility in Beijing

Beijing, 24 July 2008 –
The Beijing Olympic Green Convention Centre (BOGCC), located along a 400m strip of the Olympic Boulevard and designed by Edinburgh-based international architects, RMJM, enters a new phase tomorrow as the media facility goes live 24/7 in the run up to the Beijing Olympic Games.
The largest media centre in Olympic history is part of the BOGCC complex that accommodates both the Main Press Centre (MPC) and International Broadcasting Centre (IBC). Occupying more than 150,000 square metres, the MPC and IBC will be home to more than 20,000 accredited journalists, photographers and broadcasters.
"
We are delighted to be in Beijing as the Beijing Organizing Committee's (BOCOG) media centre begins 24 hour operations tomorrow and marks the final phase to the opening of the summer Olympic Games
," said Peter Morrison, Group Chief Executive Officer of RMJM.
The structure of the main building is designed to be understated and timeless, enveloped by 20 metre square glazed panels to provide film crews and photographers with unobstructed views of key Olympic landmarks. Built for high acoustic performance, the natural copper cladding of the building's auditorium commands the main concourse.
In line with BOCOG's "Green Olympics" message, RMJM's design includes systems that make use of natural elements together with a high degree of insulation throughout the building. Green features include the rain water collection on the roof for flushing systems and the irrigation of the surrounding landscape, an ice storage cooling system and a "free air cooling" ventilation system in the public foyers of the convention centre.
"
As one of the four principal venues on the Beijing Olympic Green Boulevard, the structure is understated and timeless, its roof recalling and celebrating the traditions of its Chinese pagoda. Effortlessly exuding power and presence, the centre will welcome the people of Beijing and their guests at 8.08pm on 08/08/2008, the date of the opening ceremony of the Olympic Games,
" said RMJM's Scott Findley, design director, Asia.
Back to July 2008