Future looking up for picturesque Sutherland castle
|
Send to friend
May 11 2018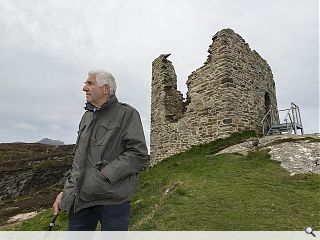 A ruined castle in Sutherland has begun a new lease of life welcoming visitors instead of repelling them following its transformation into a picturesque viewing platform by Wildland and Historic Envionment Scotland.
Castle Varrich (Caisteal Bharraich) boasts uninterrupted views to Ben Hope and Ben Loyal as well as vistas across the Kyle of Tongue and has been linked to Norse warriors from the 11th century as well the origin of Clan MacKay in the 15th century.
Now it is more intimately connected to the
North Coast 500 tourist route
and in that guise a steel viewing platform has been painstakingly assembled behind its fragile retaining walls.
Conservation architect Nick Groves-Raines of Groves-Raines Architects said: "The building definitely had two floors; possibly a timber ground floor over the sloping bedrock (perhaps with a hatch to a store underneath) and an upper floor on a barrel-vaulted arch. Given the thickness of the walls and the evidence of the timber roof structure, it is likely that the building used to have a parapet wall-walk, and although we will never know for certain, it does look likely that the building was a look-out or beacon in a classic defensive position.
"The views now possible from the upper level of the viewing platform are spectacular and give you a real indication of what the original inhabitants would have seen from the wall-walk."
David Narro Associates assisted with structural improvements to the diminutive castle, with repairs taking two years to complete in an operation complicated by the need to airlift materials by helicopter.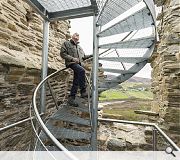 Visitors can once again climb the castle ramparts
Back to May 2018