Greenock regeneration to deliver 60 homes
|
Send to friend
May 11 2018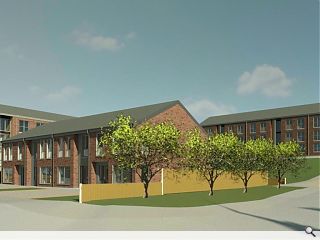 River Clyde Homes have brought forward proposals for
60 homes on brownfield land at Peat Road, Greenock
, comprising a mix of flats and terraces.
Located on the outskirts of town the homes will replace demolished 1960s housing the latest scheme harks back to earlier terrace housing which once marched up the sloping site in step with the local topography.
In a statement consultancy Chameleon wrote: "Where there are significant changes in topography, planted crib wall is to be used, to provide level platforms for building, and soft edges for planting. Permeable paving is proposed to most of the parking bay areas, which are strategically placed to slow run-off before reaching the steeper slopes of the site."
Formed from red brick with metal cladding and dark roof tiles the homes will sit within extensive landscaped grounds with particular care given to include windows on gable ends to ensure full visibility of all corners.
Homes will be arranged around a central green space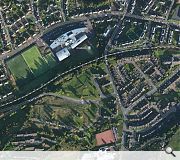 The site overshadows Notre Dame High School
Back to May 2018