Kilmartin Museum makes history with £3.2m lottery grant
Send to friend
* Required fields
|
Send to friend
May 10 2018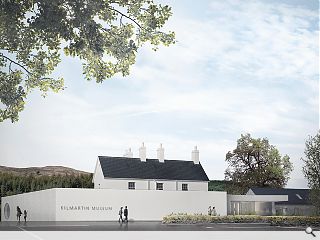 An ambitious overhaul of
Kilmartin Museum
is on track after the heritage project secured a £3.2m grant from the Heritage Lottery Fund to transform it into a national centre for archaeology.
An extension designed by Reiach & Hall Architects will link two existing museum buildings in order to better tell the story of Kilmartin Glen and better care for the artefacts and archaeology under its care while extending its community outreach and education role.
An enlarged exhibition area will allow a greater collection of objects to be showcased while accommodating double the number of visitors and tripling the number of people it can offer, bringing a 5,000 year history of human occupation in the area to life.
Dr Sharon Webb, director and curator at Kilmartin said: "The award means we've nearly reached our fundraising target, bringing the implementation of the project that much closer.
"The project as a whole will enable us to properly care for the artefacts in our collections, and tell their stories interwoven with the sites and monuments in which they were found, as well as provide massive improvements to the visitor experience and the museum's education service."
Subject to additional fundraising to close a £100k shortfall the museum could move on-site in January next year to complete by summer 2020.
Back to May 2018