Avalanche of criticism buries Ayr Renaissance centrepiece
|
Send to friend
May 10 2018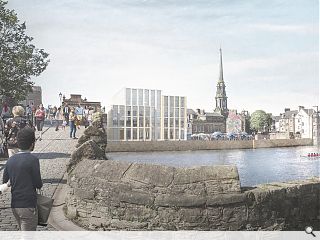 A chorus of criticism has convinced South Ayrshire Council to go back to the drawing board in its bid to build a flagship
Keppie-designed headquarters
on a sensitive waterfront site.
No less than 364 objections were registered for the contentious build, which would have seen a four storey office block rise on the banks of the River Ayr, centerpiece of a
£30m masterplan
for land bounded by High Street, medieval 'Auld Brig' and the Victorian 'New Bridge'.
Amongst those to thwart the project were the Architectural Heritage Society of Scotland which expressed the view that the proposed scheme did not meet the standards of 'high quality architectural design' and a 'detrimental' effect on the town's skyline.
Such sentiments were born out of divergence from an earlier
masterplan by Niall McLaughlin Architects
which called for a double-gabled frontage to address the river and direct access from the High Street.
Architect Patrick Lorimer complained that 'No effort has been made to relate the new elevations to the existing', adding that local townscape characteristics have been 'completely ignored'.
Based on past precedent set by its office space for its
West Dunbartonshire Council offices
in Dumbarton Keppie dropped smaller attic levels in favour of screened rooftop plant and offered only a secondary access pend to the east – although provision would have been made to open an additional High Street entrance at a later date.
Such sentiments led councilors to unanimously object to their own new home to allow a reappraisal of their approach.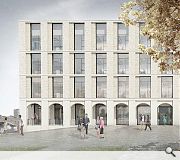 A new front entrance would have been formed off the riverfront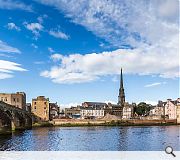 Site clearance work has already been completed
Back to May 2018