Perth office HQ shapes up
|
Send to friend
May 8 2018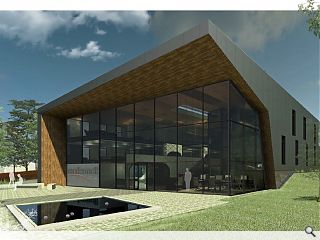 CRGP Architects are taking the lead on delivery of an
office headquarters building
at Broxden Business Park in Perth, to serve as a new head office for local building solutions specialists the McDermott Group.
Commissioned to cater for ongoing expansion of the business, which will take on an additional 20 staff, the scheme has been modelled on a 'de-constructed shed' design.
Interior spaces will be lent an industrial aesthetic of brickwork, steel and glass, containing a flexible layout of large open plan spaces and cellular offices housed behind an irregular façade which meets a prominent corner with a raised roof.
Outlining their approach CRGP wrote: "On approach to the main entrance, the interior of the building is fully revealed through a double height glazed curtain wall.
"The external metal cladding panels stop at the junctions with the cut away entrance with a softer material used to clad the reveals to the walls and roof."
The main public façade will front onto Tweed Place, shielding a rear parking court.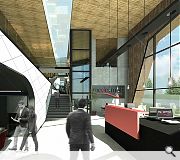 A mix of open plan and cellular officer are provided around an internal atrium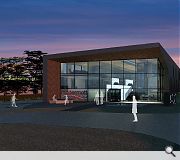 An angled oversailing roof advertises the front entrance
Back to May 2018