Tenants offered individual 'window pods' in Calton/Bridgeton homes
|
Send to friend
March 20 2018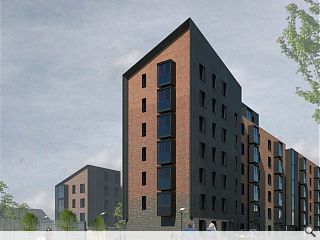 TheNue Housing Association and Mast Architects are spearheading plans to rejuvenate a brownfield site bounded by Abercromby, Tobago and Frake Street's in the heart of Glasgow's east end to form
77 new homes
.
Arranged across two separate blocks of flats and a cluster of lower density houses the properties be arranged with a seven storey perimeter block fronting the busy London Road, sheltering a smaller four storey block of apartments and houses toward Tobago Street.
Rising from a base of black brick fading to red in deference to surviving industrial buildings with zinc cladding employed to 'book end' the gable of each accommodation block.
Each dual aspect home will contain a 'window pod' to allow natural light to penetrate deep into living areas and provide a glazed outdoor space, adding interest to the long elevations by breaking up expanses of brick.
In a planning statement Mast wrote: "Flats have been designed with dual aspect and careful consideration has been given to avoid any internal rooms allowing for natural ventilation in every room. Where possible living rooms and kitchens are front facing to main road's keeping bedrooms and bathrooms facing over back courts for added privacy. The housing also has a shower room on the primary living level in addition to a family bathroom and en-suite off the main bedroom on the upper living level."
To aid accessibility Drake Street will be extruded as a footpath through to Abercromby Street and creating a visual connection to an adjacent Calton Burial Ground.
A strong urban frontage will face London Road, with lower rise housing behind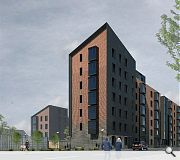 Houses will be included within the accommodation mix
Back to March 2018