Glasgow Gaelic School extension tabled
March 14 2018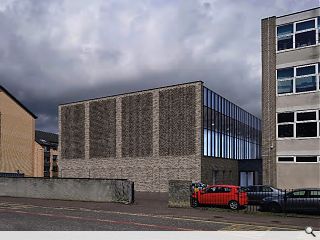 Glasgow City Council is spearheading the extension of an existing Gaelic School at Berkeley Street, Finnieston, to accommodate a
four-court sports hall
and associated facilities.
Designed to tie-in with the existing school while being unashamedly modern the sports hall will be built on an existing playground and has been specified for independent operation to allow its use by the public after hours.
In their design statement the council observed: "At the gable end s and at low level the sports hall is clad in a grey / dark brick. This provides a resilient finish in keeping with the existing palette and reflectsthe robust and durable space required for the proposed function.
"Brick detailing such as projecting headers and recessed panels are utilized to bring depth and varying proportion to the large solid mass of the gables. An alternative black brick is used to clad the single storey bridging element in order to create a clear delineation between the old and new elements."
A solid masonry mass of dark brick has been specified for the south elevation to minimise heat gain with translucent high-level glazing to the east and west permitting light through.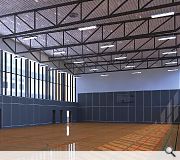 A single storey link will connect the hall with the existing school
Back to March 2018