Campbeltown Grammar gives pupils a geology lesson
February 22 2018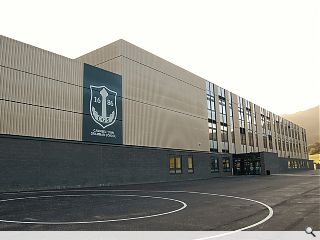 Pupils have begun lessons at the new
Campbeltown Grammar
following handover of the £26m school by Morrison Construction and Hub North.
With capacity for up to 500 pupils the school boasts its own 3G sports pitch and music pavilion.
Designed by Ryder the three-storey 'superblock's sits on a base of concrete blockwork with earthen metallic cladding above intended to help the structure blend into its landscape setting.
Explaining the design process Ryder wrote: "The form of the building responds to the geology and topography of the site. As befits a civic building characteristic features of the local landscape are abstracted and evoked.
"The plinth, articulated as a heavy carved piece, refers to the presence of an outcrop of bedrock beneath the building.
"The horizontality of the base course is counterpointed by closely spaced vertical metal profiles, which give the building a textural quality and creates a visual rhythm of pleated texture which will change dramatically according to viewpoint or direction of the sun."
Plans are now in train to demolish the old 1960s school buildings to provide an enlarged car park.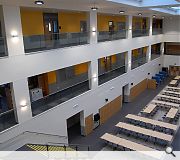 A full height atrium doubles as a central meeting point
Back to February 2018