Demolitions extended at Glasgow's Custom House
February 22 2018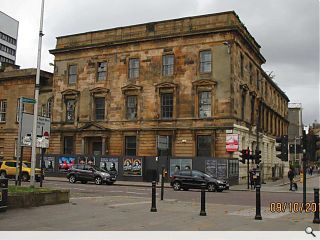 An application has been filed to
extend planned demolition work
at the B-listed Spectrum House, an historic tenement at 286 Clyde Street, under the dangerous buildings act as part of a £90m development planned for Glasgow's A-listed former Custom House.
It had been hoped to retain adjoining properties at 1-5 Dixon Street, also B-listed, but an investigation into the party wall between both sections uncovered issues with cracking and water ingress such that 'the remaining parts will not be capable of reasonable repair'.
Investigations by Hurd Rolland and David Narro Associates found that an exposed gable wall is showing signs of bowing and 'structural distress', likely brought about by the earlier demolition of another section of the terrace and compounded by a drooping floor – although the building is not thought to be in danger of collapse.
In a heritage statement Hurd Rolland wrote: "It is concluded that what might conceivably be retained of the original listed building after the completion of the emergency demolition works would be of such a reduced level of architectural and historic interest that this interest would no longer be considered special."
Artisan Real Estate Investors alongside Sheppard Robson Architects are progressing plans for a
twin hotel and aparthotel project
on the site and had originally envisaged making use of the classically styled tenement to house a number of bars and restaurants.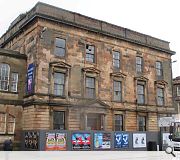 A 2013 fire has led to extensive water ingress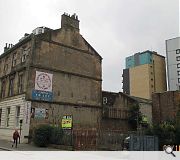 Permission is now being sought to take down properties at 1-5 Dixon Street
Back to February 2018