Rosslynlee Hospital to form rural 'village' centrepiece
February 12 2018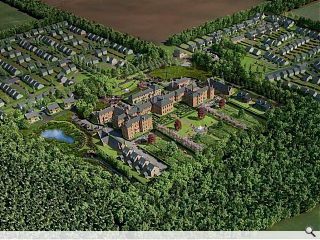 Plans have been submitted to convert and restore the
C-listed Rosslynlee Hospital
to form 68 apartments following demolition of the morgue, boiler house and sundry outbuildings.
Part of a wider redevelopment of the estate known to form a 381 home 'rural village' to be called St Margaret's the scheme will see stonework salvaged from demolitions re-used for areas of new building.
Overseen by Gilberts Architects and Patience and Highmore the proposals seek to retain the identity of the former asylum while removing inappropriate later additions
Explaining their approach to new build housing the architects stressed a desire seek inspiration from the past, saying: "Stylistically, the houses are intended to be contemporary, in terms of detail, while being traditional in form. The proposed homes are one and a half storeys in height, with slate pitched roofs and wall head, dual-pitched dormer windows. Detailing is deliberately terse and understated, including cast stone cills, tight eaves, gable chimney and built-in log store, which are all simply and functionally expressed."
An existing access road will be retained for the development flanked by Lime trees with the current boiler house swept away in order to open up a parkland style setting to Rosslyn Grange.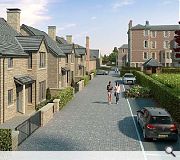 New build housing will draw inspiration from the old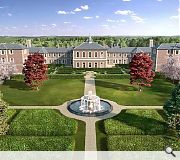 Water features and parkland will be restored to their former glory
Back to February 2018