Waverley Mall makes an entrance
February 9 2018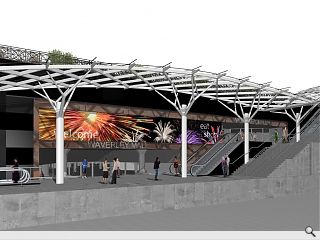 Sutherland Hussey Harris have notified City of Edinburgh Council of their intent to
remodel the entrance spaces to Waverley Mall East
at the Waverley Steps.
This would entail the removal of existing Trespa wall cladding to allow entrance doors to be widened and new finishes to be introduced to the existing cladding; including steel trim openings, full height glazed screen shopfronts and illuminated signage.
Remaining Trespa cladding will be refaced with a black vinyl finish as part of efforts by mall owner Moorgate to keep pace with the looming St James Centre.
Stallan Brand Architects are spearheading a separate scheme to
re-jig the mall's roofscape
in order to improve access and maximise views of the Old Town.
Back to February 2018