Stewart Milne detail Pacific Quay vision
February 6 2018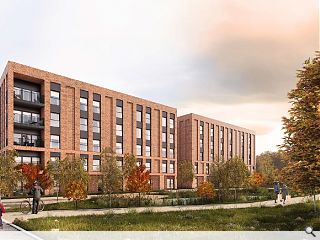 A collaborative venture between Stewart Milne Homes, Haus Collective and Scottish Enterprise to transform a former dock on the south bank of the Clyde into a residential community has signaled the onward march of regeneration to the south bank of the River Clyde.
Now in an interview with Urban Realm Stewart Milne explain how they aim to transform a post-industrial wasteland into an attractive example of modern city living by delivering
203 flats, townhouses and colony-style homes
.
Gerry More, managing director of Stewart Milne Homes told Urban Realm: "That side of the river is underdeveloped I would say. I worked with CALA for 20 years and was involved with Glasgow Harbour and Lancefield Quay so I know this part of Glasgow well. Given the transport links that you've now got there; Fastlink, a cycle route and the ability to walk in - I think this location offers a lot."
Oriented to maximise views of nearby landmarks such as the Science Centre, Armadillo and Clyde Arc the housebuilder is keen to carve out its own path through the undergrowth. More remarked: "We're not like your standard volume developer that's seen as bit of a box basher. This is very much creating streetscapes and communities that people want to live in.
"There is an element of standardization but it's within carefully designed streetscapes and materials choice. You get very commercially predictable results on it but you get people wanting to live there. We've got an in-house design standards booklet that all our regions adhere to and we're about to launch Delivering Successful Streetscapes in conjunction with Architecture & Design Scotland."
That approach seeks to bring kerb-appeal not just to individual properties but to the spaces between as well in an effort to ensure the project hangs together as a cohesive whole. An approach which has also seen a number of Colony-style homes thrown into the mix to broaden market appeal.
More added: "The colony setting gives sense of light and views, breaking up the development so its not just covered in apartments and townhouses. You really want to attract and retain the economically active to your cities, that bring vibrancy to your city centre rather than people just parking up till the end of the day."
Subject to due planning process Stewart Milne are aiming to get on site by the tail-end of the year.
Back to February 2018