St Andrews attracts plans for 'staggered' housing
February 2 2018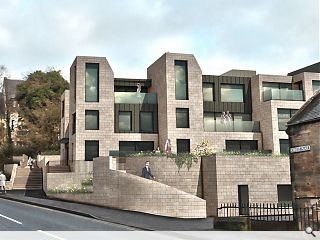 A 1960s home in St Andrews has found itself in the firing line in efforts to build
eight new build apartments within the towns conservation area
.
The desirable address has attracted the attention of Muir Walker and Pride Architects with plans to demolish the home at 22 Lade Braes and build something more in keeping with the large ashlar stone Victorian properties nearby.
Justifying their approach the architects wrote: "The building is arranged in a staggered form that results from and responds to the complex geometry of the site. From Lade braes, the ground falls over 5.5m to the Southern boundary. These proposals, rather than a technocratic levelling of the site, terrace the site responding to and reflecting directly the site conditions.
"The form & materiality of the design is also influenced by the architectural elements & pattern of buildings within the St Andrews conservation area. Use of rounded turrets at street corners, towers, pend accesses, the corbelling out of upper floors & varied asymmetric roofscapes are architectural elements common place within the centre of St Andrews and define the vernacular. These key elements have been interpreted & incorporated within the proposal to develop a contemporary response to the built form and urban fabric of St Andrews conservation area."
Finished predominantly in Ashlar sandstone with areas of zinc and render with the intention to retain existing trees.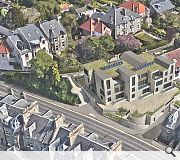 A boundary wall would be entirely rebuilt
Back to February 2018