Serviced apartments sought for site of 'unviable' Glasgow townhouse
February 1 2018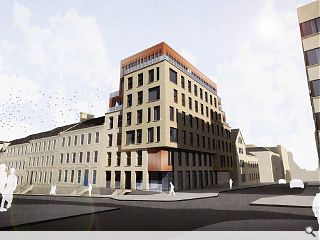 An historic townhouse at the corner of Glasgow's West Regent and West Campbell Street is in line for demolition following the submission of plans by Ark Architecture + Design and Suite Street to build serviced apartments on the plot.
A structural survey commissioned by the applicant found that the building would be difficult to repair from an economic standpoint with health and safety implications for any workers on-site, necessitating as it would near complete demolition and reconstruction.
Instead it is proposed to demolish the structure and replace it with a contemporary new build design comprising
50 serviced apartments
as well as an element of retail and commercial space.
Ark wrote: "Overhangs have been introduced to add interest and a sense of depth to what are fairly simple and structured elevations intended to sit comfortably within their context. The overhangs are emphasised by subtle changes in the tone of their stonework helping to clearly define their different masses and the planes in which they sit adding architectural interest to what is a prominent corner site within the urban block."
Formed predominantly from blonde natural stone the property will sit on a granite basecourse to 'anchor' the development within the city centre conservation area. Upper levels by contrast would be finished in lightweight pre-finished zinc panels with a copper/bronze finish.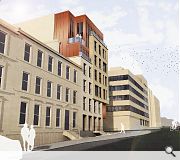 Expressive overhangs have been applied to add visual interest to the prominent corner junction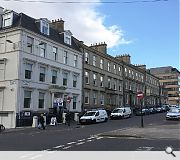 The B-listed townhouse was built around 1830 with later Victorian additions
Back to February 2018