£15m expansion pitched for Inverurie sports centre
|
Send to friend
January 31 2018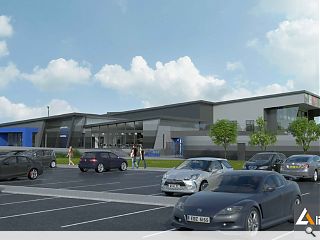 Lippe Architects have come forward with
proposals to alter and extend Inverurie's Garioch Sports Centre
; including an all-weather stadium, enlarged gym, youth hub and daycare centre.
Opened in 1996 the facility had fallen behind the demands placed on it by the towns expansion, prompting a re-think of the facilities and accommodation on offer to the tune of £15m worth of improvements.
Detailing their approach Lippe Architects wrote: "Access to the existing building is from reception through a glazed sports bridge linking the modern 21st century building to the existing 20th century building. The external design of the building is modern with clean lines and form developed with a play on the mono pitched roof and varying heights and overhangs.
"Each entrance to the building is framed by a powder coated box which helps signify the entrance."
Three indoor tennis courts overseen by Judy Murray will also be included in the mix.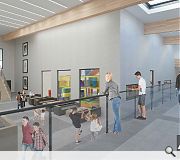 A 'sports square' takes pride of place at the centre of the development
Back to January 2018