Fort William aluminium plant clears planning
January 31 2018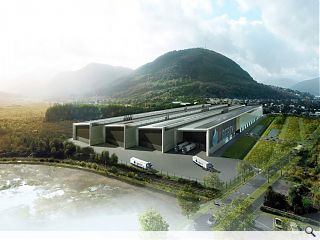 Highland Council have granted the go-ahead to a
£130m aluminum wheel manufacturing plant at Fort William
, championed by the GFG Alliance – owners of an existing aluminium smelter and 100,000 acres of land in the town.
The new factory has been conceived to fashion half the aluminium output of the existing smelter into wheels with design proposals brought forward by Keppie.
This will see a single superstructure, appropriately finished with aluminium cladding panels, arranged across four offset monopitch bays, enabling the roof as a whole to be lowered and thus minimise its impact on views from Nevis range.
Explaining their approach to the building Keppie wrote: "This roof form acts as the fifth elevation and contains attributes such as controlled North light into the production area, potential solar collection from photovoltaic panels and potential rainwater harvesting. This unique, precise, linear, industrial form has aesthetic similarities to the aluminium slabs produced on site by the Applicant. There is also a rigour to the horizontality of the design solution that reflects the precision of the manufacturing process within."
A landscape strategy for the wider site seeks to marry elements of the surrounding landscape such as moorland, burns and forest with the parallel factory slabs. It is hoped to begin construction later this year with the first alloy wheels set to roll off the production line by the first quarter of 2020.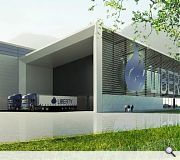 Fort William hosts the UK's last remaining aluminium smelter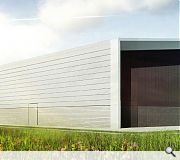 Four parallel bays break down the massing of the huge structure
Back to January 2018