A New Chapter call on RIAS president Stewart Henderson to resign
January 26 2018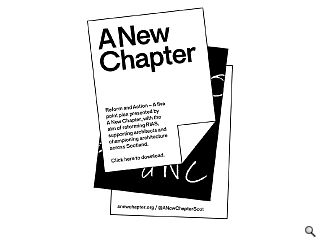 A New Chapter, the umbrella grouping of architects seeking reform of the RIAS, has called for the resignation of president Stewart Henderson in order to
expedite wholesale reform
.
The call for new leadership was made in a
seven-point position statement
which also urges existing trustees to agree to an 'orderly standing down later this year', as part of a wholesale purge of those with 'wrongful allegiances' pending their potential re-election.
A New Chapter makes it plain that it is still far from satisfied with what little progress has been made so far, foremost being the establishment of a new governance committee chaired by Karen Anderson - following the standing down en masse of a previous governance review group – to which it has been invited to participate.
In a statement A New Chapter wrote: "It is a little odd to be invited to submit to attend a new 'governance committee' when our clear and necessary demands have been unacknowledged and ignored.
"Nevertheless we extend a cautious welcome to this initiative, in particular as we note its remit, power and the means of accepting its proposals are yet to be clarified."
A New Chapter is also calling on the RIAS to delay its search for a new treasurer and secretary until the organisation has been effectively reformed.
Back to January 2018