ISA spearhead new Canonmills homes
|
Send to friend
January 24 2018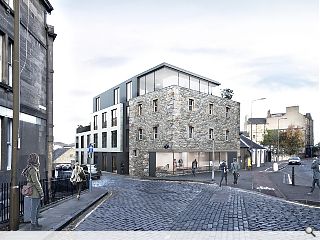 Ian Springford Architects are behind plans to redevelop a former mill to create
11 apartments and ground floor commercial space
on Edinburgh's Canon Street on behalf of Thistle Property Group.
Most recently used as office space the Canonmills Property's front sandstone rubble façade on Eyre Place will be retained with the remainder of the building demolished, including an orange clay-tile roof and shopfront, to make way for new build accommodation.
Set backs will provide opportunities for private roof terraces with a zinc penthouse and glazing stretching down through the lower floors to highlight a shared entranceway with new elements predominantly faced in ashlar sandstone and buff brick to marry with the historic mill.
Outlining their design development, the practice wrote: "This aesthetic of sandstone with cleanly
cut apertures and minimalist detailing was translated across the new facade along Canon Street, uniting the new proposal with the existing historic building."
As part of the work windows on the upper level of the mill will be repositioned to better suit the new floor levels.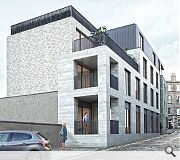 New build element will be faced in ashlar stone, buff brick and zinc with a glass box supplanting the pan tile roof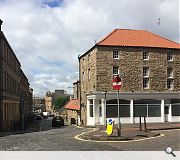 The existing clay-tile roof and shopfront will be demolished
Back to January 2018