Dirleton expansion puts castle in the frame
|
Send to friend
January 15 2018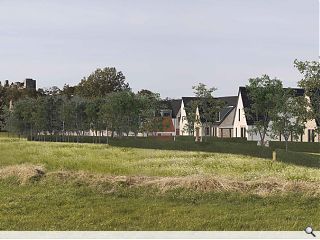 Queensberry Properties have come forward with plans to build 32 houses and four flats on four hectares of land on the outskirts of
Dirleton, East Lothian
.
Occupying a conservation area the properties off Castlemains Place are oriented to maximise views of the castle, with the masterplan calling for a new street to be laid enclosing a landscaped strip of planting with accommodation arranged across lane, steading and courtyard elements.
In a statement JTP wrote: "The proposed layout takes inspiration from the surrounding Dirleton context in terms of its form, height and scale to establish a new but complementary development which sits comfortably within its boundary and which enhances the appearance and value of this important and prominent edge."
New housing has been designed to marry existing homes in terms of materials, scale and massing, managing the transition from countryside to town via a shift from detached to terraced properties. A landscaped buffer will accentuate this transition.
Properties will be finished in a mixture of smooth dash render, timber infill, and stone.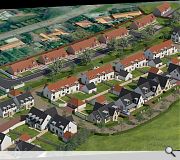 Properties will mark the transition from town to countryside
Back to January 2018