Springburn lays public halls ghost to rest with new housing
|
Send to friend
January 9 2018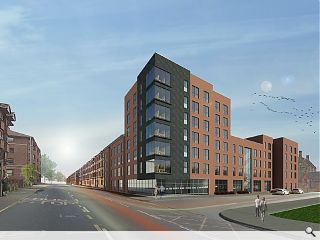 North Glasgow Homes and Chameleon have brought forward a design for
49 homes above twin ground floor commercial units on the corner of Keppochill Road and Millarbank Street in Springburn
.
Previously site of the
B-listed Springburn Public Halls
, demolished over Christmas 2012, the infill housing will abut a surviving line of tenements rising to an elevated seven storey corner element.
Formed from red brick with areas of zinc cladding the scheme seeks to bookend the corner elevation with a rear amenity space offering space for parking and refuse.
Chameleon observed: "Where the building meets the existing tenement on KeppochhillRoad the design is in keeping with a traditional close layout. The proposed elevation picks up the prominent levels from the existing elevation to ensure a harmony along the street façade, the existing ridge height is also maintained."
The Edwardian Baroque public halls were demolished five years ago over the course of two days after the property was deemed a health and safety risk by Glasgow City Council.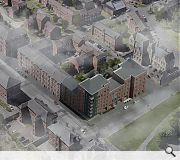 A landscaped amenity space will be provided to the rear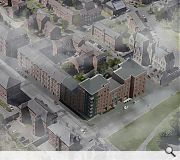 The tiered design respects surviving neighbours
Back to January 2018