Forward thinking sees University of Edinburgh research institute clear planning
November 29 2017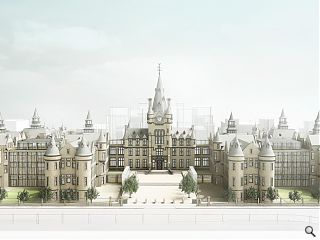 The University of Edinburgh has secured planning approval to convert the A-listed former
Royal Infirmary Surgical Hospital at Quartermile
into a major new research space focused on resolving issues pertaining to the economy, education and global societies.
Edinburgh Futures Institute is being designed by Bennetts Associates together with Faithful + Gould who will retain current ward pavilions to accommodate 21,300sq/m of floorspace – 6,000sq/m of which will be housed in new build additions.
Modern accretions to the hospital have already been demolished in readiness for the conversion, which will see the historic hospital sensitively restored and extended to create a modern and flexible academic base including a public square, gardens and underground events space and lecture theatres.
Rab Bennetts commented: "Having worked continuously for the University of Edinburgh for 14 years we are acutely aware of the importance this project has to the institution and to the city. The Edinburgh Futures Institute demonstrates the University's ambitions, not only in the world of higher education, but also in architectural patronage. We are privileged to see our ideas for new interventions so readily adopted."
Vice-principal professor Dorothy Miell, added: "The world is experiencing major changes: climate volatility, political discontent, advances in artificial intelligence, economic upheavals. This presents big challenges. We need different ways of thinking about these issues and of devising new solutions."
The institute is the single largest project to date in the university's £1.5bn masterplan for the coming decade, with construction getting underway in earnest next year for occupation by mid-2021.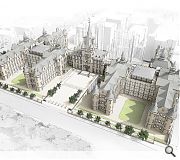 Academics will collaborate with external partners within the new centre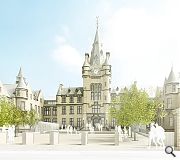 The Royal Infirmary was designed by David Bryce between 1870 and 1879
Back to November 2017