Flood-proof Govan docks rejuvenation targets 700 new homes
November 23 2017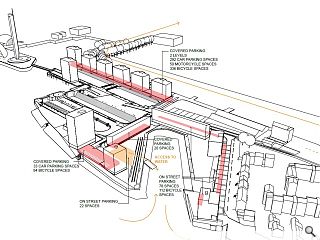 Planning permission in principle is being sought for development of
Glasgow's A-listed Graving Docks
to accommodate over
700 new homes, a hotel, shops, restaurants and offices
on the banks of the Clyde.
Built atop six individual podiums to mitigate the threat posed by flooding, while offering parking provision and commercial space, the site plan seeks to accommodate the requisite floorspace while maintaining views through the docks.
Proposals extend to draining the central dock as a publicly accessible dry dock, preserving the caisson gate, access bridges and lampposts - opening up an existing staircase to provide access to the dock floor. Remaining docks will be infilled with one opened up as a 'living space' for houseboats.
Harry O'Donnell, chairman of New City Vision Group, wrote: "The rejuvenation of the proposed public space will embrace the proud shipbuilding history of the Graving Docks. The new spaces will extend the Clyde walkway for walkers and cyclists and open up the riverside in Govan after being inaccessible to the public and the local community for more than four decades.
"The plans also feature a heritage centre that will tell the story of the iconic docks, which was a key part of Clydeside shipbuilding from the 1860s right up until the late 1980s."
Lead consultants ZM Architecture have been exploring design solutions in conjunction with GLG Arquitectos and O'Donnell Brown, focusing on the use of a prefabricated brick panel system, creating a unified frontage to Govan Road with floor-to-ceiling glazing and corner windows.
Back to November 2017