Argyll 'ghost village' makes way for craft distillery
November 9 2017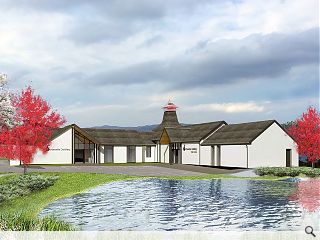 Plans for a craft distillery at Polphail, near Portavadie, are taking shape with plans prepared for a new production plant, visitor centre, cafe and staff accommodation overlooking Loch Fyne.
Portavadie Distillery
has been conceived by drinks entrepreneur Alexander (Sandy) Bulloch, developer behind Portavadie Marina, who has spent £300k clearing Polphail Village, including relocation of displaced bats to a purpose-built roost.
Taking a traditional farm steading as a template the visitor attraction the vernacular-style plant will sit under a pitched roof behind white polymer render finished walls and a dark grey brickwork base, topped by a copper pagoda.
In their design statement Darren Baird Architecture wrote: "A small but distinctive pagoda roof, clad in copper and slate, forms an attractive landmark within the context and is a key signifier of the building typology. Inside of the traditionally constructed pagoda will be exposed above the exhibition space and retail shop, allowing visitors a unique perspective by being able to see the inside of these magnificent structures."
Polphail was built in the 1970's
to service an oil bonanza which never materialized.
Back to November 2017