Govanhill pools together for £300k baths fundraising drive
November 9 2017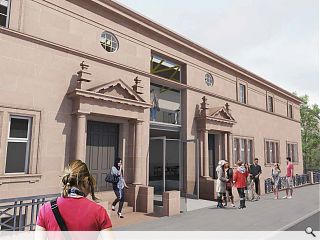 Govanhill Baths Community Trust have launched a £300k fundraising drive as a condition of funding from the Heritage Lottery Fund to demonstrate the strength of local support for their
Govanhill Baths
project in Glasgow.
If successful the campaign will kick-start delivery of a £6.4m health & wellbeing centre within the former baths, with the hope that funding can be finalised by April 2018. A start on site could then be made by the following spring 2019 and an expected reopening in summer 2020.
Thus far 235 individuals have
invested a total of £62,000
in the Pool Together initiative, with just ten days remaining to secure the remaining 80%.
Hall Black Douglas and conservation architect Alistair Coey have been commissioned to rehabilitate the space with the addition of a new reception, café and garden.
Adopting a Community Shares funding mechanism the scheme will reward investors with a 3% return on their contributions payable from profits made when trading commences in 2021.
Back to November 2017