Kings House Hotel owners express 'disappointment' at planning objectors
November 6 2017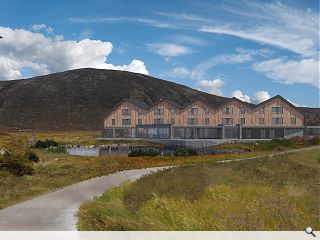 Owners of the Kings House Hotel have expressed 'disappointment' at a
slew of negative criticism directed at their plan to significantly expand the property
, warning that opposition risks delaying investment.
Speaking on behalf of Charles Adriaenssen, one of the hotel owners, surveyor James Allan of managing agents Bidwells wrote: "The family, who have owned property in the area for well over 50 years, is ready to invest more than £10 million into the rebuilding of the landmark Kings House Hotel to convert it into a place where visitors will have the opportunity to enjoy the wonderful environment.
"Considering that a basic renovation of the existing hotel would have been impossible and unsatisfactory because of the very bad condition of the building, poor layout and substandard facilities, a new building was the only valid option. Over recent years, the King's House Hotel was not well known for its comfort, food offering or overall customer rating."
Covell Matthews Architects were commissioned to radically overhaul the popular tourist haunt by simultaneously restoring the original 18th century building while demolishing later extensions to make way for a 60-bed annex complete with its own restaurant and function room.
Practice director Andrew McNair commented: "The proposed design, which retains the original two-storey building, addresses the main road and was developed in response to the stunning views, especially towards Buachaille Etive Mor, one of the most photographed scenes in the country. The plan follows the line of the adjacent river and the design draws reference from the surrounding environment, for example a mountain range is reflected the roof profile. The building will incorporate traditional materials - slate on the roof, timber cladding on the upper walls and stone on the ground floor walls."
To mitigate visual impact a series of terraces, lochs and soft landscaping will be introduced to improve the attractiveness of the immediate vicinity.
Back to November 2017