Revised Ravenscraig masterplan on the way as original vision stalls
October 25 2017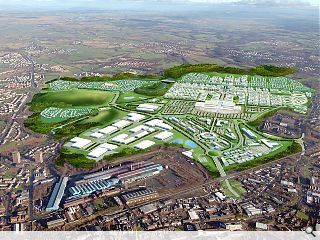 Scottish Enterprise, Wilson Bowden Developments and Tata Steel have gone back to the drawing board with a revised masterplan for the former Ravenscraig steelworks, after an earlier
2006 masterplan stalled in the midst of the financial downturn
.
A new planning application prepared by Muir Smoth Evans will be filed with North Lanarkshire Council in February and is expected to call for the construction of 550 homes through to 2021 and construction of a new primary school in around five years' time.
17 acres of land will be reserved for greenspace and parks and a business district is proposed for the town centre with a new convenience store also planned to serve residents together with other local shops.
Nick Davies, director of Ravenscraig Ltd, said: "The revised masterplan reflects the needs of the growing community, with a focus on high quality housing, a range of community and commercial facilities and substantial green space all of which will combine to deliver an enhanced quality of life for the local community."
Three consecutive drop-in sessions are to be held from 21-23 November in advance of the planning application at which members of the public will be able to have their say. The first of these will be held within Ravenscraig Regional Sports Facility between 14:30 and 20:00, moving on to the John McCormack Community Centre in Carfin between 15:00 and 19:00 before concluding at the Jim Fowley Community Centre in Wishaw between 15:00 and 19:00.
Before work ground to a halt 450 homes were completed on the brownfield site, as well as New College Lanarkshire, a regional sports facility, pub and hotel.
Back to October 2017