Hypostyle bring Asian flavour to Speirs Wharf
October 19 2017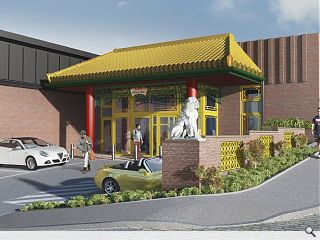 Plans for a new
Chinese supermarket
at Glasgow's Speirs Wharf have been dusted off by Hypostyle Architects on behalf of Matthews Foods.
Located at Baird's Brae the warehouse, store and company headquarters will supply wholesale and retail customers following its relocation from an existing site at Garscube Industrial Estate just 300m away.
Specialising in Asian foods and products the supermarket will reflect its specialization with the use of an ornamental canopy over the main entrance.
This will make use of custom windows, tiled eaves and traditional 'Chinese garden tiles' which will be embedded in a perimeter wall formed from matching brick with stone lion statues used to mark a vehicular entrance.
The steeply sloping site is currently occupied by a burnt out office pavilion and will include a 28 space south facing car park and service yard.
Back to October 2017