ECC have mountain to climb at Ratho
|
Send to friend
July 16 2008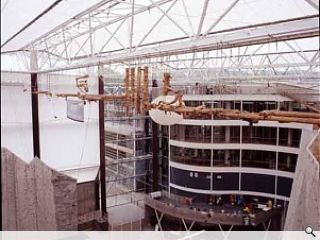 Edinburgh City Council are faced by a precipitous technical impasse in the form of Edinburgh International Climbing Centre's leaking roof. Constructed by Moidart Architects the project has been troubled since inception but has now deteriorated to "crisis point" according to the Evening News.
The situation is so bad that the centre, including the largest climbing hall in the world, could be closed for up to 6 months. Depriving outdoor enthusiasts of a world class facility.
The unique roof envelope is formed from a non-structural lightweight fabric based on an inverted tent concept. This is intended to afford protection from the elements whilst still permitting penetration of natural daylight.
Unfortunately despite only being built in 2003 the Centre suffers from a poor standard of workmanship and no drawings remain from the original construction process. This has caused an ongoing headache for ECC who are committed to replacing individual sections of roof over the next 5 years.
Back to July 2008