George Square prepares for a new Queen
|
Send to friend
July 16 2008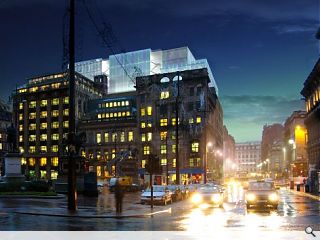 Holmes Partnership are set to deliver 250,000 sq/ft of commercial space for Valad Property Group. The £40 million scheme aims to cement the urban grid at 110 Queen St with 13 floors of stone and glass.
Weighty masonry along the southern flank of George Square is soon to be augmented by a new arrival, ushering in an invogorating new vista from Queen Street Station. An irregular profile of glazing will be strongly lit above stone shoulder reflecting a dynamic patternation of colours.
Redevelopment presents a trebling in floorspace from existing premises with the introduction of 12,000sq/ft of retail and a 7m main reception space. A steel lattice structure constructed within the stone facade supports open plan U shaped floor plates around 2 central light wells. Deep soffits and ingoes give a sense of solidity echoing Victorian masonry whilst cornices and key building lines are extrapolated through horizontal signatures.
Doubtless oiled by projected rental income Holmes demonstrate confidence of scale in refusing to be cowed by historic limitations, netting a new landmark at George Square by dint of mass and quality. Although this daring do houses a by the numbers corporate solution, albeit on a grand scale. Design lacks symmetrical consistency and set back upper floors dilute the crown, a more brazen celebration of height would have eaten bulk and contributed soar. Representing a new breed of streetscraper rising to prominence in a buoyant commercial marketplace hopes are high that an innovative translucent turquoise sheath will further illuminate an already iridescent Exchange Square.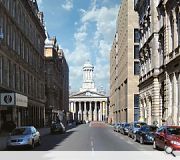 Ingram Street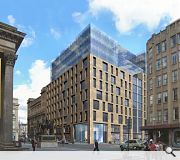 Royal Exchange Square
Back to July 2008