Moxon win planning for Crathie studio
September 22 2017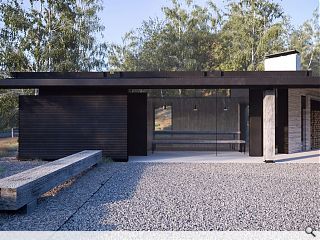 Moxon Architects have secured planning permission to press ahead with a
400sq/m studio at Crathie
by Aberdeenshire Council, enabling work to proceed by the end of the year.
Necessitated by a rising workload the practice has been expanding to manage a growing workload including infrastructure work for the UK's high-speed rail network and a new headquarters for Cairngorms National Park.
The new headquarters will take the form of two low-slung buildings occupying a former quarry, separated by trees, giving the practice scope to pursue focused and collaborative projects simultaneously.
In a statement Moxon wrote: "The two buildings are connected by a covered walk that provides all weather circulation and a sheltered space to enjoy the wooded surroundings.
"Principle walls of the proposal will be finished with a combination of concrete, glass and recycled shuttering. The difference between the finishes in weathering and texture as well as module will be apparent at close quarters, establishing a visual hierarchy where elemental concrete walls define the skeleton of the structure, around which the lightweight framed building enclosure is constructed."
The public facing element will house social and flexible working spaces including a small canteen and lounge which also doubles as a function room. Behind this a more private build will house offices, meeting rooms and other supporting facilities.
Moxon are currently operating from a
steading conversion in Crathie
, which they will occupy until the new studio completes in 2018.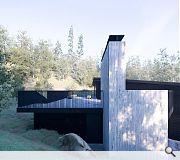 Quarry Studios will open for buisness in 2018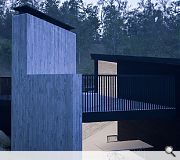 The buildings mass works with the topography of the former quarry
Back to September 2017