Urbanist Hotels vow to appeal Old Royal High School planning rejection
September 12 2017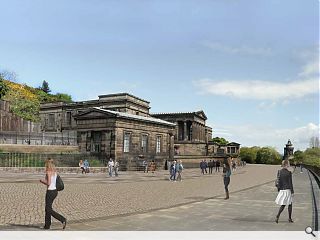 Developers behind a
contentious hotel proposal for Edinburgh's Old Royal High School
have vowed to appeal against the council's decision to refuse planning, insisting that they remain 'wholly committed' to the project.
Duddingston House Properties and Urbanist Hotels propose to transform the A-listed landmark into a 127-bed hotel designed by Hoskins Architects but face an uphill battle after the local authorities planning sub-committee voted unanimously to reject the plans for a second time, having already refused an earlier 2015 iteration.
David Orr, co-founder of Urbanist Hotels commented: "We fully recognise the importance of Hamilton's Old Royal High School Building on a national level and our revised proposals guarantee the future of Hamilton's masterpiece, both architecturally and financially.
"As such, we have advised the Planning and Environmental Appeals Division of the Scottish Government that it is our intention to appeal the council's committee decision."
A separate scheme seeking to
rework the venue as a Music School
has received planning but is unable to move on-site until a commercial agreement between the council and the hotel developers lapses in 2022.
Back to September 2017