Colourful Mackintosh library prototype section created
September 8 2017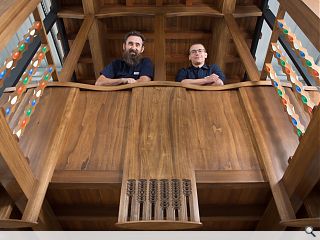 The restoration team working to recreate Glasgow School of Art's fire ravaged library have unveiled the first full-scale prototype section following six months of labour.
Crafted by specialist carpenters the model is being used to test every aspect of the design and manufacturing process before work begins in earnest to
rebuild the lost masterpiece for real
, product of painstaking archaeological and archival research to get every detail right.
Professor Tom Inns, director of The Glasgow School of Art, commented: "For those of you who remember the library as it was in 2014 the biggest change you will notice is the colour. This is how we believe is how the library would have looked in 1910.
"One of the first discoveries after the fire was that much of the library was constructed from American Tulip wood. Samples from the bottom of a Library column and one of the shelves from the Library cabinets which survived the fire gave us the first clue as to both the colour of the library in 1910 and how the colouring has been achieved."
The model has been hand built by specialist carpenters Laurence McIntosh with Page\Park Architects with on-site installation expected to commence by spring 2018.
Meanwhile Kier Construction have finished work on a new roof and restoration of the loggia and are now busy rebuilding the famous 'Hen Run'.
Back to September 2017