Musselburgh homes win approval from planners
September 6 2017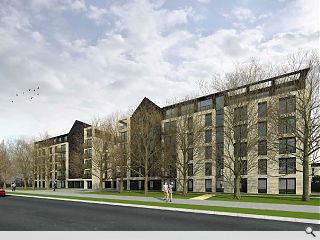 East Lothian Council has given its blessing to a
development of 140 apartments at Mall Avenue, Musselburgh
, by Dundas Estates and Development.
Designed by Michael Laird Architects the properties will occupy a former car park overlooking the River Esk, building on an existing outline consent to deliver a scheme of 'detail and finesse'.
Arranged around a central landscaped area the homes are finished in brick and metal, specified to reference the site's industrial past, with entrance provided by a new pedestrian avenue flanked by twin 'feature gable ends'.
Explaining their intent the architects observed: "The configuration of the proposed buildings aims to establish an urban grain within the site to match that of the surrounding context.
"Pedestrian routes lead through a range of spaces whether it is the narrower areas between buildings or the larger landscaped or parking courtyards. The access from Mall Avenue leads pedestrians through a landscaped courtyard and allows for a future pedestrian route to the adjacent site to the south. The spaces are enhanced by the landscaping where low level walls, informal seating and feature planting and trees help define the spaces create routes and offer a mix of public and private spaces."
Located near to
Musselburgh Primary Care Centre
the proposal takes the place of a former Tesco supermarket.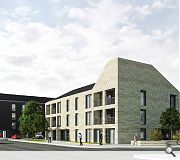 11 affordable homes will be included in the mix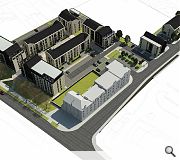 Outline plans for a monolithic facade along Mall Avenue have been tempered
Back to September 2017