Glasgow's demolition derby
|
Send to friend
July 14 2008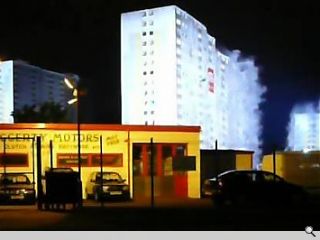 Those taking an early kip this 13 July would have been rudely awoken as much of the city reverbrated to the sound of explosives.
Network Rail insisted on a series of early hours implosions to minimise disruption to rail services ensuring a sequence of spectacular floodlit demolitions, the first of their kind on UK soil.
Kicking the evenings entertainment off was Fountainwell Place at Sighthill where twin 20 floor slabs came thundering southward at approx 02:30. The Pompeiian ash storm barely having settled when a further dawn triple explosion was carried out at Millarston, one Sunday morning wake up call not to be ignored.
Next in line lie 12 Riverford Rd & 21 Riverbank Street, Shawbridge. Scheduled for a 20 July blowdown.
Back to July 2008