Elphinstone Place cancelled following the credit crunch
|
Send to friend
July 14 2008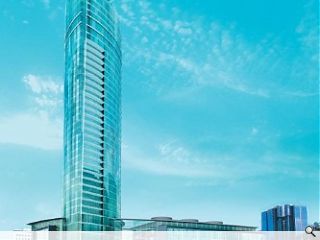 The ongoing "credit crunch" has claimed its latest and greatest victim, Elphinstone Place. Final cancellation of the 39 storey tower at 314 St Vincent St sees the loss of 202 homes alongside 184,000sq/ft of commercial space, marking the latest chapter in a saga which has dragged on since 2003.
Originally designed by Cooper Cromar plans had been redrawn by Conran & Partners at the behest of City Lofts and Elphinstone. This move constituted an attempt to spread risk which has subsequently backfired spectacularly following City Lofts bankruptcy amidst the worsening economic outlook.
City Lofts St Vincent, a special financing vehicle for the project immune from bankruptcy proceedings, had been in negotiation with the schemes funder, New York based Lehman Brothers. The aim being to engineer an economised design shorn of non productive features and height, including a public viewing gallery and restaurant. This was meant to bring the project within the developers pain threshold but it is understood Lehman Brothers are now unwilling to advance as much capital.
As this unravels it is difficult to foresee an outcome beyond continuation of the present mothballs until such time as the site can be sold. As a choice development plot it will be attractive to buyers and partners even in a declining market.
Back to July 2008