Skylon, Skylon everywhere
|
Send to friend
July 15 2008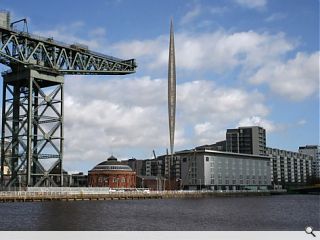 A deflated zeppelin on stilts, last seen being chucked in the Thames by Churchill, could be making a comeback if a campaign led by Glaswegian Jack Pringle, ex-president of the Royal Institute of British Architects, has its way. Mr Pringle said: "This is an iconic structure and it is so impressive to see, which is why we want to bring it back."
Fondly remembered by some in the Capital the structure was intended by its creators, Powell & Moya Architects, as showpiece for Britain's planned renaissance in the aftermath of financial and physical ruin.
Ultimately insufficient of itself to affect Britain's merciless post war decline the structure is nonetheless being touted as a symbol for Gateshead, Newcastle, Cambridge and Edinburgh.
Given today's tech savvy and fickle populace the structure is unlikely to attain the same appreciation as its originator but geographical whimsy does at least excite imagination beyond the M25 belt of an important architectural moment.
Back to July 2008